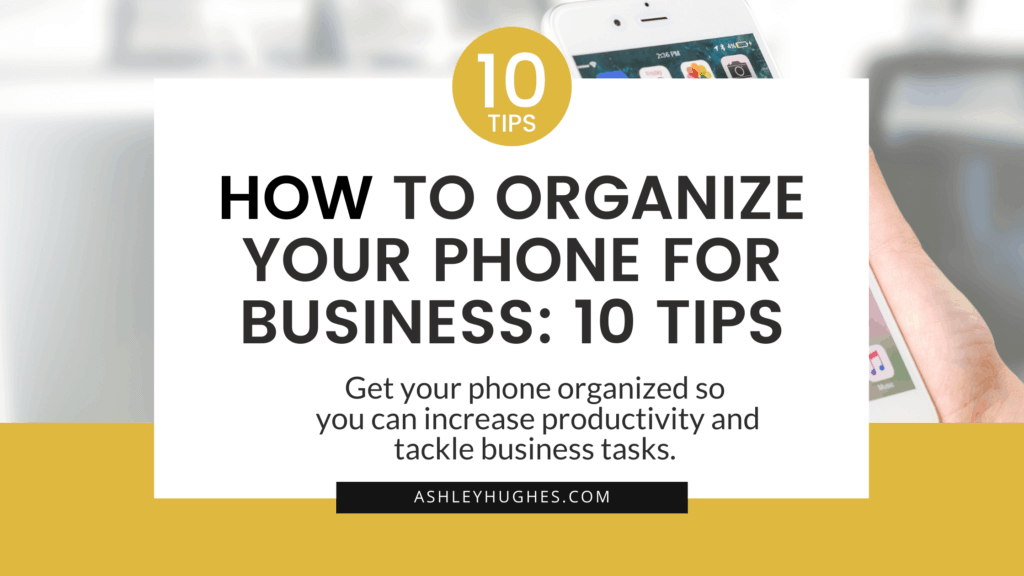 Organizing your phone for business tasks is one of the best ways you can stay on top of all of all things business.  Over the years, I've added more and more apps, tools, and tasks to my business management toolbox/plate.  It can get overwhelming if all of those things bleed into your personal life.  I've put together a list of 10 tips for how to organize your phone for business. 
1. Put Business Apps on a Separate Page
Most phones have a feature that allows you to drag and drop your apps onto different screens or pages.  I have an iPhone, so I can just hold down on an app and then move it to where I want it.  I have 3 screens that I sort my apps onto.  Here's how my screens are categorized: 
Frequent/Personal: The main, first, screen contains apps that I use frequently in my personal life (calendar, map, camera, notes, clock, browser, smart home apps, etc.).
Business: This screen contains all of those apps I need for my business (Quickbooks, Canva, Asana, my CRM, Dropbox, etc.)
Infrequent/Time Wasters: This last screen has all of those apps that I either don't use often OR are just apps that are time wasters (social media, shopping apps, entertainment, Starbucks, etc.)
Throwing all of your business apps onto one screen makes it really easy for you to find what you need.  In addition, it can kind of keep you in check if you are trying not to work during family time since you'll have to consciously slide over to that business area.  
Once you've got all of those apps moved over to your "business page" then go ahead and sort them into rows, sections, or even folders.  I organize all of mine in folders based on what category they're in.   For example, all of my financial apps (PayPal, Venmo, Bank, QuickBooks) are all in a folder.  Social media, graphic design, client management, and ecommerce are some other categories I have.  
3. Create Website Shortcuts
Website shortcuts are just like the little shortcut buttons on the bookmarks bar on your desktop.  I created shortcuts for sites that I visit frequently, but don't have an app.   My website, client management system, and a couple other sites that I utilize all have shortcuts on my phone!  Not having to search or type in the address saves me a little time and frustration.  
Here's how to quickly do it on an iphone (safari):
Open your browser and navigate to the site you want to create a shortcut home.

Hit the share icon on the bottom (looks like an arrow pointing up out of a box).

Scroll down and select 'Add to Home Screen'.
Edit the title if needed.
Now it will show up as a little icon on your screen and you can move it wherever you need!  
4. Use a Calendar App (& Separate Calendars)
Google Calendar is my go-to app, but there are several good ones out there. Obviously having a calendar is essential, but my best tip is to create separate calendars for your business things… yes multiple calendars!  These are my current business calendars: clients, content, business goals, tax/finances, and social media/marketing.  It's really helpful to be able to turn these calendars off and on when I just want to view my family calendar, appointments, etc.  I don't always have to view everything all at once!   
5. Sync Your To-Do List and Notes
Anyone else have a bazillion lists and notes?  This tip is so helpful!  I have all Apple products, so this is a pretty standard feature now, but if you have different brands you might want to see if there is an app that you can use across all of your devices.  I find myself creating lists and notes throughout the day and am so happy that they are synced across my iMac, MacBook, iPads, and phone.  
6. Utilize a Cloud Storage App
Dropbox is my preferred cloud storage app, but I do also have Google Drive for a lot of older archived files and personal things that I never moved over to Dropbox.  Both services have apps for your phone.  This is super helpful when you need to access a file or send one to a customer or client!  No more waiting until you get to your computer.  
7. Create an Image Album for Your Brand
This one saves me SO much time.  I typically don't do a ton of social media or design work on my phone, but when I do I'm glad I have this feature.  In my Photos app, I created a separate album for just my branding and social media.  I have my logos, patterns, solid color backgrounds, headshots, stock photos, etc.  It makes it so much easier to find pieces if I do need to create a post or design on my phone!  
8. Add a Separate Mailbox Folder for Your Business
I've had this feature set up for years and it's so helpful.  All of my mail used to get thrown into one folder and it was kind of annoying.  I have gmail for my personal and business accounts, so on my iPhone, when I go to my mail app, I see two separate folders now (Personal and Business).  I can ignore that business one if I want to.  
9. Use an App for Finances/Accounting
Finances and accounting stress me out so much.  I used to save all of it for the end of each quarter, but now I can hop on my phone when I'm waiting for an appointment, or in car rider line, and sift through my transactions and quickly categorize them.  I use QuickBooks Self-Employed.  It's about $17 per month for the plan I have, and it's totally worth it.  There are a ton of other vendors out there, but I've found that one works for me and I love how it automatically pulls in transactions from my bank, PayPal, and Stripe.  
10. Use Google Voice Instead of Your Phone Number
This tip may not be for everyone, especially if you don't have actual clients.  However, if you talk to customers or clients at all, I highly recommend getting yourself a Google Voice number instead of dishing out your actual phone number.  This not only helps with privacy, but I can filter incoming calls and only answer my business number during my working hours.  I'm also more comfortable handing out my phone number when that situation arises.  It's free to use!  
Hopefully knowing HOW to organize your phone to tackle business tasks can save you a ton of time!