SEO Keywords (or keyphrases) are incredibly important If you're looking to improve the SEO of your website.  In this article I'll cover… 
What Keywords for SEO Are
Why They're Important
How To Find Keywords
What To Do With Them
and Tools You Can Utilize
Keywords are basically words or short phrases that people search for on Google and other search engines. (i.e. what you type into the search bar)
Why are Keywords Important for My Website?
If you want people to find your site organically (i.e. by finding you through search results), then make sure you're using specific keywords.  When a person enters a term into the search bar, Google's goal is to serve up what it thinks is the best and most relevant content that person will engage with.  There are many factors that go into how Google ranks results, but one of the main things is keywords.  
For instance, if I'm searching for "kindergarten math centers" then for your site to come up in the results it needs to have that term (as the post title, in the content, on a product, etc.).  My results for that search are going to be what Google believes are the highest quality and most relevant kindergarten math center content. Obviously there are paid ads thrown in as well, but that's another topic.  
The fist step to coming up with keywords is to think about your audience (you can actually ask/poll your audience).  What are they searching for?  Why do they come to your site?  Another important question is what do you want to be the "go to" for?  (i.e. what do you want to rank for?). Are there other topics you enjoy writing about?  What are you good at?
Those answers will guide your keyword list.  Let's stick with the "kindergarten math  centers" example.  Say you have a kindergarten blog/site that focuses heavily on math.  Topics (keywords) that you could use are:
kindergarten math
what math should a kindergartener know
kindergarten math centers
kindergarten math games
activities for kindergarten math
math assessment for kindergarten
etc. 
How Specific?
Keywords can range from general to specific and it's going to be harder to rank for "kindergarten math" than it is "kindergarten math centers". There's somewhat of a balance you want to achieve with your keywords.  You want to find keywords that have a good amount of people searching for them, but aren't too hard to rank for.  If you use the keyword "math", you'll be competing with way more content and it will be more difficult to rank.  On the other hand, if you select a term that's super specific, you'll easily rank higher for it, but if no one is searching for it then what's the point?
To Do:
Your task is to make one giant list of ideas (and accompanying keywords) for content creation.  I have two  planning pages I use.  The first is a very general bulleted list of overarching topics (web design, WordPress, SEO, Design, Clipart, etc.) and then under those I have specific keywords that I can pull from.  
My second is more specific.  I use Airtable to plan my content.  Here's a snapshot of part of that grid.  See how these three posts are all focused on SEO, but on the right they all have different keywords?  That's the goal. 
Can I target the same Keyword on multiple pages/post?
Yes, but it's better to try and target different keywords.  You'd be competing with your own content if you use the same ones.  It's important to make it clear to Google what each of your pages/posts are about, so try to use different keywords.  All this to say I do have some posts that have the same keywords.  You can try using the same keyword on two different posts and then see which one gets more traction.  Also, you'll naturally have some overlap with terms if you've niched down pretty far.
In short, try to stick to one, but it's not a huge deal of you use the same one for another post or page.  
What Do I Do With My Keywords?
Use them!  Here's a quick list of where you want to try and use your keywords:
Title of post/page/etc
In the first paragraph of your content
Subheadings
Throughout your content in places that make sense.  Don't try to "keyword stuff" and use them too much.  It should still read naturally to your visitors.
Meta description
 Image titles, alt text, descriptions, and captions if you use them
The SEO Plugins I reviewed in
THIS POST
will all give you tips and scores for keyword usage.  When I go to write and edit content, it's easy for me to see where I need to in my keywords.
Tools for Keyword Research
There are various tools out there for performing keyword research.  Here are 7 to consider.  When selecting a tool, make sure you test it out and feel comfortable actually using it.  You'll also want to compare pricing options for the paid ones because they range from free to wildly expensive.  
Ubersuggest is the tool that I use for my business.  I have the lifetime plan and I use it ALL the time.  I'd say if you are wanting to really step up your SEO game then get the lifetime plan ($290).  If not, you have up to 3 searches per day and you can likely get away without he plan.  I love all of the features and tools included.  It also has a lot of "hold my hand" features for when I have no idea what I'm doing or looking at.  Super helpful.  Sorry, I'd love to offer a referral link for a discount, but they don't do that.  
SEMRush is a platform geared towards all things marketing.  It has a lot of similar features to Ubersuggest, in terms of keyword research, and I love all the data it aggregates.  They have a free plan (which I have) so you can try it out. Their paid plans are pretty price, but you do get a TON of tools and resources at your fingertips.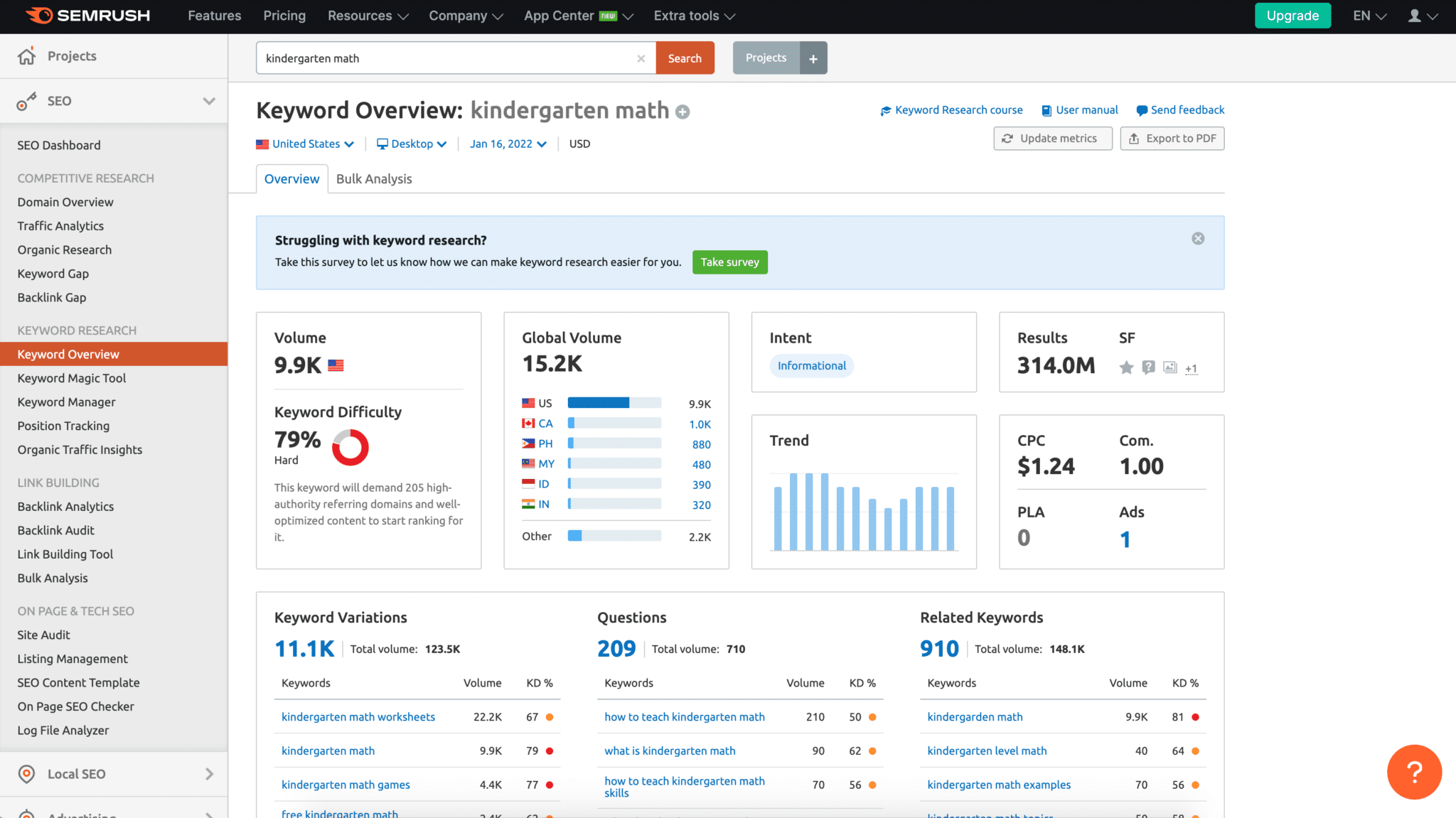 Moz is an SEO data platform, much like Ubersuggets, thas a free tool for keyword planning. I really like how it keeps it simple and shows you the most important analytics up top.  Moz has a ton of other features to check out in their paid plans as well.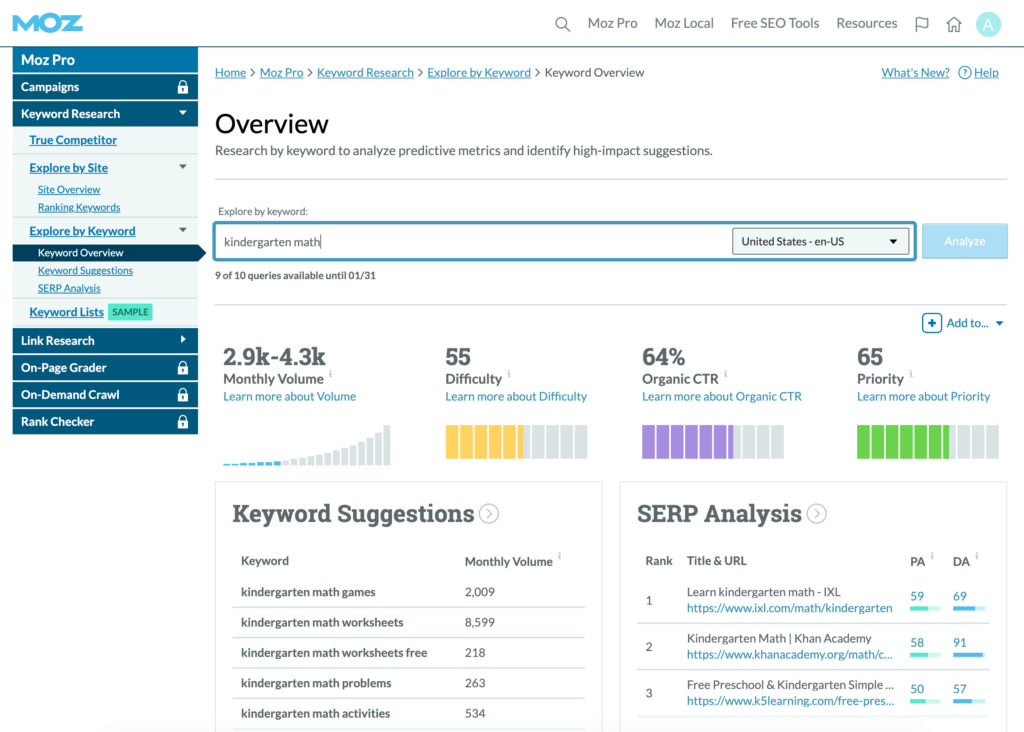 This tool is a little more related to paid ads, but you can still get some pretty valuable data from it.  Not the most intuitive interface, but it works and is free.
This one is pretty cool.  No analytics, but basically it shows you the top search terms for search engines (Google, Yahoo, Bing, YouTube, Answers, Amazon, and Wikipedia).  It's a great place to find keywords.
This one seems strange, but you can get a lot of ideas just by searching for hashtags on Instagram!  Keeping in the "kindergarten math" theme, you can see that it gave me a lot of ideas for popular hashtags that are used and followed. 
A simple Google search is one of the easiest ways to find keywords. There are two ways to utilize Google for this.
Start typing in the search bar and see what autofills. Those are popular search terms (i.e. keywords).
Perform a search for your term and then scroll to the bottom for "Related Searches." Those will give you ideas that are similar to your topic.
What Do All of the Terms Mean?
As you do your keyword research, you'll come across several terms that might be foreign to you.  Here's a quick little term dictionary:
Search Volume: The number of searches for a particular keyword/term in a month (or other period of time).
SEO Difficulty: How hard or easy it is to rank in organic search.  The higher the number, the more competitive the keyword is.  
Trend: Search volume over a period of time (typically 6-12 months).
Authority: Think of this more like "level of expertise."  If you have a lot of high-quality content on a specific topic, then you're authority will be greater.  
Priority: This data isn't on all the tools, but it's super helpful.  It looks at all the data (authority, volume, difficulty, etc.) and gives you a number.  The higher the number, the higher priority you should put on that keyword… i.e. create content around it because it's a sweet spot of high volume and low difficulty.  
Rank/Position: Where a specific page ranks within the search results.
Relevance: How relevant a keyword is to your site/page.
CTR (Click Through Rate): % of people who click through to the page/post.  For organic traffic, you want a higher CTR. It means there's less paid ads and images/videos you're competing against.
SERP: Search Engine Results Page
The following two have to do with paid search results:
Paid Difficulty: The competition with paid search, the higher the level the more difficult it will be.
CPC (Cost Per Click): How much you'd have to pay Google per click if you want your result to be seen as an ad (it would appear above the search results).  The higher the cost, the more competitive.
To sum it up, as you build your business and work on SEO, keywords should become a priority.  Spend some time gathering a long list of keywords to create content around and it will pay off down the road.  It will keep you focused and make it easier to know what to spend your time on.
Download your FREE Keyword Planner
Use this printable to help you gather some keyword ideas.  Print as many copies as you need if you have several different topics your site focuses on.  Hopefully it's helpful!